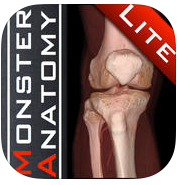 Monster Anatomy – Knee is the free version of Monster Anatomy – Lower limb, an interactive lower limb radiology atlas presented at the 2009 Radiological Society of North America annual meeting.
It only contains knee images.
The application was developed in the Medical Imaging Department of the University Hospital Center of Nancy, France, under the supervision of Professor Alain Blum.
This application is designed for healthcare professionals (Radiologists, General Practitioners, Orthopedists, Surgeons, Physiotherapists among others) as well for students, as a reference and learning tool. It contains 82 contiguous knee MR slices (4-5 mm thickness) in the three anatomical planes.
Features:
– Intuitive navigation with multiple shortcuts.
– Fluid display of images in the three anatomical planes.
– 3D Image volume (VR) allows precise location of slice position.
– Labels in accordance with the "Terminologia Anatomica" and current literature references.
– The five different display modes available (bones, joints, muscles, blood vessels and nerves) facilitates label visualization.
– High image quality with a zooming tool.