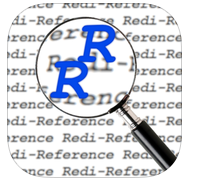 A reader that can be used for accessing designated medical references and guidelines including guidelines from the Infectious Disease Society of America, American Diabetes Association, STD Guidelines from the CDC, COPD Guidelines from the American Thoracic Society and others.
Redi-Reference, Inc. Web SiteRedi-Reader Support
What's New in Version 6.03
This update addresses the following issues:
– In iOS 5, the search field has a clear background, should be white.
– The app may crash upon startup if the device is in landscape mode and the last time the app was active, a document was open.
– In iOS 5 on the iPad, using the multi-finger gesture to switch apps causes the app to enter selection mode.